A good hunter will always have the right hunting equipment in his or her bag, and a digital predator caller is arguably among the most essential items to always carry along with you. These pieces of equipment will make your hunting trips much easier, as they will help you to attract predators by making sounds that their prey would make.
Digital predator callers offer a wider range of benefits when compared to traditional callers, as they do not need a lot of expertise as traditional callers do. Digital predator callers also allow you to control the machine from afar instead of putting you in harm's way. Among the more popular digital predator callers in recent years is the Lucky Duck Revolution. True to its name, this model offers revolutionary features and designs that will make your hunting trips much more enjoyable.
Why will this project be a potential game-changer? Stick around, and we will find out in the article below.
Overview of The Lucky Duck Revolution
The Lucky Duck Revolution is not the most recent release from the manufacturer, having been released in 2016, but it certainly still doing well now.
The first most striking feature of the Lucky Duck Revolution is the fact that the design is patented. This means that its design is quite unique, and is guaranteed to offer something different to the table.
This e-caller produces loud, crisp, and clear animal sounds to a vast area that could reach more than 300 feet in diameter. With a rotational base, it could broadcast sounds evenly throughout a 360-degree range.
The Lucky Duck Revolution features a long-range remote controller that lets you take control from afar, so you can stay safe in case a dangerous predator arrives at the scene. The remote control is effective within a range of 100 yards.
The e-caller comes pre-loaded with 100 various animal sounds recorded by the famous expert Rick Paillet, The Verminator. These pre-loaded sounds should be enough for your basic needs, but if necessary, the e-caller can take on extra sounds, up to a maximum of 2,000.
To help it attract predators more effectively, the e-caller features a motorized decoy on the handle. If an animal approaches it, the remote-controlled HD camera will spring to action, capturing the ensuing shot or chase sequence.
This e-caller currently costs about $499.99, which sits on the more expensive side of the scale. That said, its inclusion of a motorized decoy as well as a rotational 360-degree base will justify this high price.
Lucky Duck Company's History
Priding themselves as the "Master of Deception", since their founding in 1995, Lucky Duck has consistently been one of the most reliable names in the industry. Lucky Duck started out with just one product, but over two decades of research and development, they are now the proud manufacturer of over 100 products in different categories.
They value their customers greatly, so they place a great emphasis on providing great customer service to every buyer. They will regularly listen to customers' needs and feedback in order to provide better products. Their one-year full warranty policy will offer great protection against any potential defect.
Lucky Duck Revolution Design & Features
The Lucky Duck Revolution is a high-performing e-caller that could be called a step forward from other models. It features a wide range of benefits that could help it attract predators' attention quite easily.
Sounds
Arguably the most important element of any digital predator caller, the sounds play a pivotal role in attracting predators. If the sound quality is not that good, few, if any, predators will actually be fooled by the imitated calls, and the hunting trip will be much harder.
Fortunately, thanks to its high output, the Lucky Duck Revolution can broadcast high-fidelity and loud sounds across a vast tract of land, allowing them to reach predators deep in the forest. The sounds are also made by an industry-leading expert, The Verminator, Rick Paillet. There is no doubt that this is the best sound library on the market. The extension of the pre-loaded sounds is .LD. So they can only be played during the Lucky Duck electronic calls.
The Revolution electronic predator call pre-loaded 100 alive animal sounds organized in 17 folders for quick access, and they include sounds of crows, snow goose, coyotes, etc. In case you want to add more customized sounds into the library, the Lucky Duck Revolution caller can support a max of 2,000 different sounds and a max of 32 one level folders.
The Lucky Duck Revolution Call can only add audio with .LD and .mp3 extensions, and the audio file name can be any length. However, since the remote display can only display the first 20 characters of the file name, you need to ensure that these audio files can be clearly identified.
Speakers
Unlike most models on the market, the Lucky Duck Revolution features a motorized base that will allow its speaker to broadcast sounds in a 360-degree manner, helping the e-caller to be more effective in attracting predators. The 30W speaker is quite loud and clear, even in extreme weather conditions with too much wind. It also comes with 4 different levels of sound amplification for you to choose from. Certain sounds are great at high gain, while others perform better at low gain, so having the choice whether to amp the sounds up or not is really important for all hunters.
Design
This model features a patented design from the Lucky Duck brand, allowing it to perform astonishingly better than most of its peers. The e-caller also comes with an ergonomic handle to help you carry it around with relative ease. It is made from high-quality plastic that can bear a lot of beatings, but it is not waterproof.
The Lucky Duck Revolution e-caller is also surprisingly lightweight. It only weighs 5 pounds, sitting among the more lightweight models from the company.
Remote
The Lucky Duck Revolution e-caller can be controlled from afar through a specialized remote control that offers an impressive range of 100 yards. This means that you can stay hidden behind a cover and control the e-caller with ease, giving you plenty of time to prepare your perfect shot. On clear days, the range of the remote could shoot up further than the upper limit of 100 yards.
The remote features 3 different brightness modes to help you adjust the brightness accordingly to the time of day or current outside light level. To change the brightness level, simply push and hold one of the three scan buttons. The three brightness modes are: "Day", "Dawn/Dusk", and "Night".
The remote control features an LED display as well as navigational buttons to help you with various operations. With this remote control, you can easily do the following things:
Change the volumes
Take a picture with the camera button
Rotate the base of the e-caller
Broadcast your favorite sounds
Control the decoy
Decoy
One of the best things that come from this e-caller is the fact that it is shipped with an integrated decoy. Most other models do not have decoys, and you would have to buy a separate decoy in order to attract more predators. With its integrated decoy, the Lucky Duck Revolution will ensure that you do not have to spend extra money on decoys, which can become quite costly.
The magnetic decoy of this e-caller is located on its handle, and it only takes about 15 seconds to pull out the decoy and set it up.
HD video camera
A new and welcomed feature to any e-caller, this HD video camera is a great way to capture memorable moments from the hunt as souvenirs. The camera boasts a wide-angle lens that helps you capture images or videos in high definitions. The camera will also rotate 360-degree along with the base when necessary. Apart from taking memorable pictures and videos, this video camera can also be used to help you plan your hunt.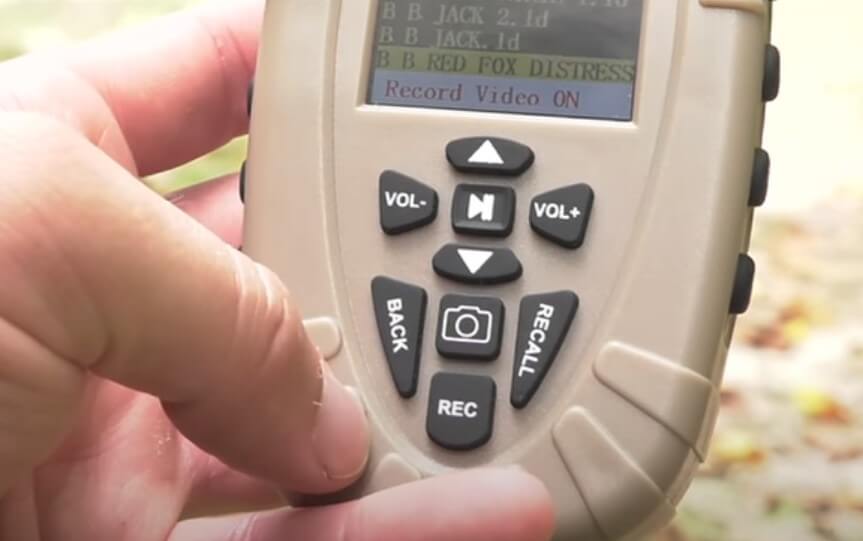 You can command the camera to take pictures or capture a video through the remote by pushing the camera or the "REC" button on the remote controller.
Tripod base
The Lucky Duck Revolution is shipped with a stock motorized tripod base, and adapt to most standard camera tripods or any other base system that utilizes a ¼ 20 thread. This tripod base is actually more helpful than you might think, as it will elevate the e-caller to a higher position, which might boost its performance on some rocky terrains.
The rotational tripod base allows you not only to capture images but also to broadcast sounds 360-degree. This is particularly useful if you do not want to come out of your cover to adjust the direction of the speaker.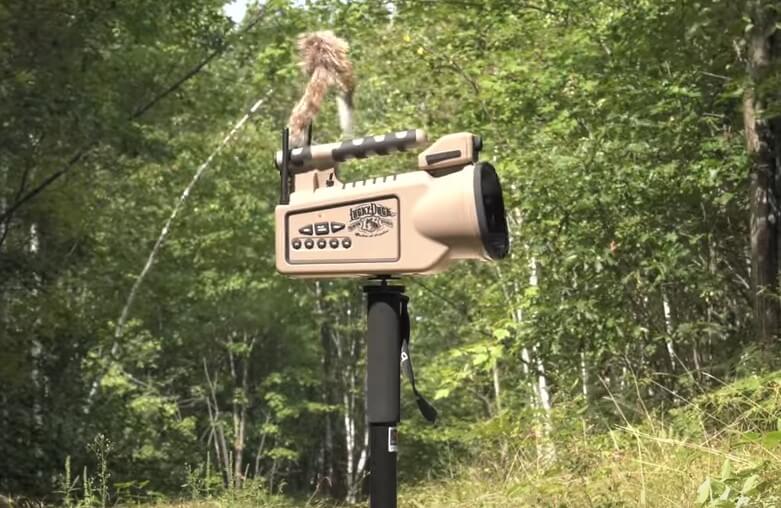 Battery
To function properly, the Lucky Duck Revolution would require 10AA batteries. Do note that these batteries do not come with the package, and they have to be bought separately. The battery compartment is located at the bottom of the e-caller.
The remote controller itself requires 3 AA batteries to work. They also require separate purchases.
Works perfectly in extreme weather conditions
The Lucky Duck Revolution is a formidable model, and it is designed to withstand the beatings of bad weather conditions with relative ease. The entire machine is made from high-quality plastic, which protects environmental elements such as snow or winds from damaging the electrical components. The e-caller can work in extremely windy conditions, where the wind speed could reach 30Mph.
Customer service
This feature is not necessarily related to the product itself, but it is worth mentioning that Lucky Duck's customer service is top-notch. They really do listen to their customers' feedback, and have pushed out new updates for the remote control to improve it considerably as well as to deal with many long-standing issues.
When your model is not working as intended, Lucky Duck's customer service might offer to replace it with a new one.
Disadvantages
Nothing is perfect, and even though the Lucky Duck Revolution is extremely well-made, there are still a few glaring issues that prevent it from being awesome.
The remote control is pretty hard to use for hunters who wear gloves
The model is a bit outdated, being from 2016
The instruction manual is quite difficult to read
The price is a bit high, but the high-tech features are certainly worth it
Lucky Duck Revolution Alternatives
If the Lucky Duck Revolution does not fit your needs, there are still some great alternatives out there that do. The Lucky Duck Roughneck is a newer model from the brand that has addressed some underlying issues with the Lucky Duck Revolution.
Lucky Duck Roughneck
This e-caller is a same-price model that offers great flexibility. The Lucky Duck Roughneck offers a better remote control with bigger buttons and a wider screen as compared to the Lucky Duck Revolution. This model also features 150 preloaded sounds, which should be enough to attract most predators.
Verdict on Lucky Duck Revolution
Though the Lucky Duck Revolution is a bit aged by now, it still performs surprisingly well compared to its contemporary competitors. Its top-tier speaker will blast sounds in many directions thanks to the motorized base.
If you are looking for a versatile model with excellent performance and capable of capturing moments in time, the Lucky Duck Revolution is quite a choice. Otherwise, I highly recommend you to choose its updated version, Lucky Duck Roughneck.