Catching the right prey in the right situation can be difficult, but gets a whole lot easier when you bring along the right gear. If you're just getting started with using a game caller, it can be tough to commit to an expensive electronic coyote call that you aren't sure will work. The ICOtec GC300 is great for those hunters that want to try it out.
This model is a great place to start, as it boasts a lot of really great features and will definitely improve your hunt. For such a low price, you really do get a great addition to your setup.
Overview of ICOtec GC300
The ICOtec GC300 comes in a small and compact size that is easy to carry around with you. The size of this caller doesn't reflect the volume that it's able to put out. The volume is truly impressive from the 120 db, 15 watt speaker, with dual sound capability.
The remote control from ICOtec always continues to impress us with its long range of 300 yards so you can operate the caller from a massive distance. This boosts the safety level of your hunt but also allows you to move freely with less limits. With the ICOtec GC300 you get the chance to play sounds from one of the most reputable sound producers there is, Wildlife Technologies.
Overall, we see the ICOtec GC300 as a great option for anyone just wanting to try out electronic calling and can't afford to spend a fortune.
Key Features
Price
Like we mentioned, the price for this little caller is impressive. We don't see prices this low in the electronic caller market very often and when we do, it can cause skepticism. The GC300 is exactly what you're wanting for a low price though. They don't cut corners where they don't need to and put out a high quality product.
Dual Call
Like most of ICOtec's other callers, the speaker on the ICOtec GEN2 GC300 lets you play two sounds at once. This is the best way to simulate any kind of wildlife and attract even more. There's such a higher chance in fooling a predator if you are playing a distress call alongside an attack call. They hear multiple calls and know there's something going on.
Remote Control
The remote control for the ICOtec GC300 is incredibly straightforward. Due to the low number of sounds, each sound has its own button. You don't need to sift through a menu to find the call you want, just click the appropriate button.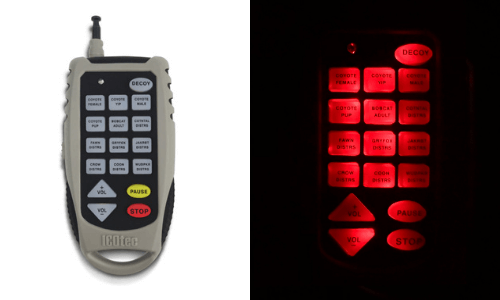 If you want to play multiple sounds at once, you just need to click both buttons and the speaker will follow. It's so easy to use, which is perfect for beginners.
The remote control is going to work from 300 yards away. You don't need to stay in a tight proximity to the caller. You have more freedom to roam and hunt from different angles, further away.
Speaker
The 120db, 15w speaker on the ICOtec GC300 packs a powerful punch for its small size. You can hear the sounds perfectly from the 300 yards away that you're testing your remote from. This means that predators with better hearing will hear it from miles.
Sound library
The sound library on the ICOtec GEN2 GC300 is composed of twelve different sounds that cover a good number of different species and styles of calls. While the caller isn't able to take any more sounds or be programmed differently, these sounds are of the absolute best quality that you can find.
Wildlife Technology is consistently hired on by Disney and Warner Brothers for their outstanding sound quality. Those exact same sounds have been preloaded into the ICOtec GC300 to get you the best results possible.
Lightweight and Durable
The durable plastic housing makes this product both able to live long as well as lightweight and easy to transport. You can get this caller out on the trail without ever noticing the weight that you're carrying. On top of that, you don't have to be incredibly gentle with it. It's a piece of hunting gear and is designed to take a beating.
Warranty
ICOtec backs the GC300 with a one year warranty. For such an affordable caller, the one year warranty is highly reassuring that it is going to last you that whole year.
Multiple users report that they have had their callers ruined by natural disasters, and even when this isn't covered in the warranty, ICOtec has sent them a brand new caller. This is a great sign that the company actually cares about its customers, not just their money.
ICOtec GC300 Disadvantages
Low Number of Sounds
If you're experienced with game callers you know the benefits of having a huge sound library at your disposal. You get the chance to create a huge amount of playlists and different simulation scenarios. Unfortunately, the ICOtec GC300 only comes along with these twelve sounds and doesn't have any room for more.

While the number is low, the quality is high. This is still a good number for those hunters that just want to try it out and then won't be overwhelmed by the large number of files and sounds.
Uncommon Battery Type for Remote
A23 12V batteries for the remote just aren't that common. They aren't found in many small appliances around the house and won't be next to the AAs in the checkout aisle of the supermarket. This is a big drawback for when you want to go out hunting and discover your battery is low or dead.
With other batteries you can just pull them out of the TV remote and worry about that later. With this remote you need to make sure you have a stockpile at home.
Volume doesn't go as low as others
When you're trying to lure a predator with a precise volume, you often want to use a very low volume. We've found that the ICOtec GC300 just doesn't go as low as some others on the market. It does well at a high volume range, but may need muffled to get as quiet as you want it.
ICOtec GEN2 GC300 Alternatives
The FoxPro Inferno is another great affordable option for hunters just starting to get into the game. It has a much larger sound library for more variety that beginners can play around with. It also gets a full three year warranty from FoxPro, which definitely beats the single year coming from ICOtec.
Another good alternative is ICOtec GC320, which includes 24 sounds, and come with ICOtec PD400 decoy.
Either way, both of these callers are going to be a good step into the world of electronic calling.
Final Verdict on ICOtec GEN2 GC300
For those at the beginning of their new hunting careers, the ICOtec GC300 is a great way to help yourself along with bigger predators. It has quality sounds and good volume for an insanely low price. ICOtec is a great company that makes solid products, and we see no reason why not to start off with the GC300.