While ICOtec has given us some of the best electronic coyote callers possible, we just keep on finding more and more of their products that outperform the last. The ICOtec Outlaw has all of the high quality sound and massive sound library that other ICOtec callers have, but it brings even more to the table. This is one of those callers that you really need to get your hands on to truly experience and believe how effective it is when it comes with you on the hunt.
To get the best possible results while hunting, you are going to use every tool that is available to you. With the ICOtec Outlaw, you get an additional tool of a high-tech and incredibly helpful decoy right out of the box. The AD400 electronic decoy that comes along with the Outlaw is equipped with a feather and fur top that moves at an adjustable speed and is paired with an LED light for nighttime hunting.
Overview of ICOtec Outlaw
We see a lot of similarities between all of the different game callers that are put out onto the market, so what's the big difference here? There needs to be a big difference in the product to make it notable and worth checking out. Well, the ICOtec Outlaw definitely comes filled with features that make it fit the bill and is incredibly notable in its field.
The battery life, sound library, and powerful speakers that are a key part of the ICOtec brand have once again found their way into this caller. The 10-watt speaker, lined with acoustic foam, brings realistic sound that can be heard for miles to the table, and when it's thrown on top of an additional tripod, you can be sure to hear those calls bouncing off the valley walls.
To go along with the impressive speaker, there's an even more impressive sound library. By working with Tony Tebbe, ICOtec has gotten the best possible calls pre-loaded into the Outlaw to help hunters succeed in every one of their hunts.
The Outlaw has such a range of features, we can't help but continue to be impressed by it. Everyone is saying great things about this game caller, and we aren't going to contradict anyone in that arena.
Key Features of ICOtec Outlaw Programmable Call
Remote Control
The remote control that comes along with the Outlaw lets you operate the caller from 300 yards away, without needing to be in the line of sight. This is a huge advantage as you don't need to choose your hunting ground based on where your caller has been positioned. Things change while you're out there, and this remote will keep working as you move through the different positions.
The layout of the buttons on the remote make memorizing their positions incredibly easy and natural. The buttons aren't crammed together like you find on a lot of remotes. You can hold the remote comfortably in your hand, and after a while, operating it in the dark will be simple.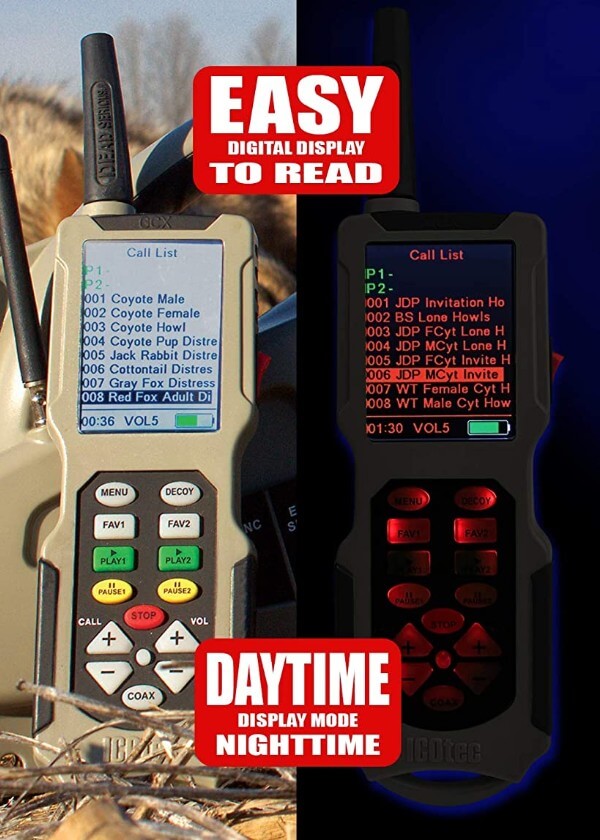 The display comes with a backlit function that makes reading the screen easy during night hunting. While we wish that the buttons would glow, this is about as good as it gets with the layout and comfort in your hand.
Speakers
The speakers in the Outlaw have a powerful 10-watt capacity and are backed up additionally with sound enhancing foam that lines the product's interior. This helps to channel the sound outward and not let it get eaten up by the materials around it.
One of the best features that ICOtec continues to offer is the ability to play two sounds simultaneously through their high-power speaker. When you're creating scenarios through sound, it is incredibly beneficial to throw in an additional call that will make the simulation even more realistic.
Take an animal fight for example, you will need the attack noises of one animal and the screams of another to make any coyotes or other big predators believe the show you're putting on. This feature definitely makes this a lot easier than a single-sound speaker.
Sounds
240 sounds come preloaded on the Outlaw's memory system, with the ability to add over 200 more. 50 of the 250 preloaded sounds come straight from the experiences and expertise of Tony Tebbe. Tony is potentially the most qualified game caller alive today who has made it his life's work to create the most realistic calls for each and every situation in environments across the world.
The Outlaw is compatible with MP3 and WAV sounds, so it is incredibly easy to program even more sounds onto the memory chip. Other callers will have more complex sound files that are harder to find or convert to, but MP3 and WAV have always been the easiest to find.
Decoy included
The Outlaw comes equipped with an AD400 electronic decoy that has 2 separate lures, proven to be tremendously effective to add success to your hunt. A speed dial on the decoy allows you to customize the rotational speed of the decoy, which just adds to the versatility of the Outlaw.
On top of the decoy, there is a small LED light that can be programmed to turn on in the night, with just the light on or with the movement engaged as well. This lets you make the hunt your own, even into the night.
Tripod mountable
Another great feature of the Outlaw is the option to mount it on a tripod. While the tripod doesn't come along with it, adding one to your gear stock is a great option. A tripod will lift the Outlaw up off the ground and allow the sound to move out and up in a more effective travel path than if it was sitting on the ground. The ground will soak up sound through moss, brush, or snow, and the tripod helps eliminate that sound loss.
Other important features
The ICOtec Outlaw has even more options to allow you to personalize the calls that you are utilizing on the hunt. One of these is the option to create favorites. With the ICOtec Outlaw you can create up to 20 favorites, which will become easily accessible. It's great to have a list of favorites when you don't want to sift through your entire library and spend more time picking the call than actually hunting.
Another feature unique to ICOtec is the coax function. This is one sound that can be played at any time with a single press of a button. There's no sifting through anything and if you know you will use a certain sound more than others, you can program it in as your coax.
Warranty
ICOtec backs their callers with a 5-year warranty. We love their willingness to stand behind their product in this way as it shows that they really believe it's the best. A good warranty will have you covered in case of any mishaps out in the field.
Disadvantages of ICOtec Outlaw Coyote Call
Batteries
It wouldn't be fair to everyone if we stuck only to the positives of the ICOtec Outlaw. We felt it necessary to bring up the one biggest drawback which is its batteries. While ICOtec products typically have a longer battery life, that doesn't change the necessity of buying out your local convenience store from their AA battery stock. This product requires a load of batteries (18 – 1.5V AA batteries for caller, decoy and remote control), but does pretty well if you buy high quality batteries.
Alternatives
If you've read all of this and still feel the need to look into something else, we recommend checking out the FOXPRO Fusion Electronic Predator Caller.
Where the Outlaw falls a little bit short, the FOXPRO Fusion can pick up the slack. It is another incredible option that will bring your hunt to a whole new level, and we love both of these callers.
Final Verdict on ICOtec Outlaw
With speakers that can blast unique sounds (and a whole lot of them), a huge range on the remote, an impressive and effective decoy, and so much more, the ICOtec Outlaw has left us incredibly impressed. It has features that we know to work well in the field to get hunters the best results for a safer, and more successful hunt of big predators.
ICOtec Outlaw programmable caller might be the best choice for you if you want a huge amount of high-quality sound that is easy to bring out with you and can be relied upon for hours on end, from a ways away.