The ICOtec GC500 is a hidden gem amongst electronic callers in a low price range. It has all of the features that can draw you towards buying a more expensive caller, but comes in a compact package that costs a fraction of the typical price you'll find for a product of this value. ICOtec knows how to make quality callers and they don't cut any corners in their builds.
This is another great example of how ICOtec is one of the leading brands for electronic callers that give you a load of features to help your hunt be successful. This caller is easy to bring along everywhere with you, and has a handle that's made to be held comfortably or hung up on a tree to get higher amplification of its already impressive sound. We think this is one of the best value callers on the market today.
Overview Of The ICOtec GEN2 GC500
The ICOtec GC500 uses a compact design that still gives you the high quality sounds from ICOtec as well as a huge range of operable area. This will respond to the remote when you're 300 yards away, and not even in line of sight.
With only 4 AA batteries and a single 9 volt for the remote you can still get the same sound levels as those callers powered by 10 AA batteries. This is sure to save you some money over the long run as you won't be buying ten batteries every time you go out.
From a high quality and easy to use remote right down to the 15 watt speaker, the ICOtec GC500 stands at the top of its class.
Key Features
Remote Technology
One of the new additions to the remote for the ICOtec GC500 is the on/off switch. This will prevent any further mishaps of accidentally pressing buttons and getting calls that you weren't expecting. The remote is going to function at a range of 300 yards, and completely out of line of sight.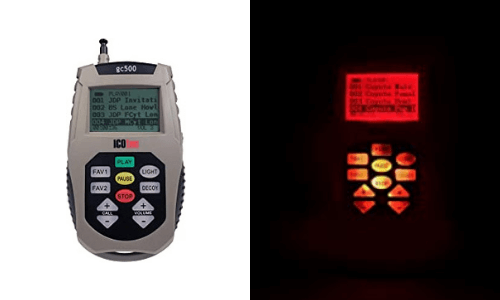 The remote control is also going to be able to control and manage the decoy that you are choosing to utilize to get the best hunt possible.
The two favorite screens can be set up to have quick and easy access to your top calls. With the night mode you have an easy to read backlit screen with buttons that glow. All of this together will make operating the remote simple and get you what you want, fast.
Sounds
The ICOtec GEN2 GC500 comes with 200 calls preloaded. That's the entire functionality of the remote, ready to go, right when you get the caller. There's a huge custom call library that's available through ICOtec, and you'll have direct access. 
All of these calls are loaded on to an SD card in the caller. So, while 200 calls is the limit of the remote, all of these calls can potentially be longer sequences that you have customized to get the best results.
Excellent Connectivity
Whether it's connecting your computer or an external speaker, you won't find there being much trouble. You can hook up an external speaker easily when you need a little bit of an extra boost of the sound. Connecting to your computer will quickly allow you to manage the sounds that you have loaded.
The auxiliary jack allows you to easily connect a decoy to up your game even more. This is a great feature that allows you to personalize this caller.
Favorite calls
One of the best features of ICOtec is the favorites. This allows you to choose six different calls that are easily accessible in the favorites screen. When you have six calls set out, you can know exactly where to get them and play them without having to scroll through the long list of calls. 
Programmable
The sounds on your new caller are easily programmable, but can take a little bit of time to figure out. Any custom file that is either a .wav or .mp3 (16 bit or less) file can be added on to the SD card through the connection to the caller. This lets you add a huge amount of personalization to the caller and get the results you really want while hunting.
Lightweight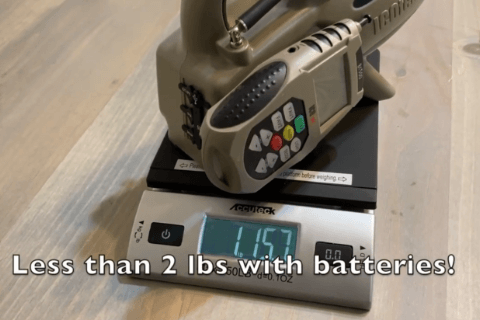 At 1.5 pounds with batteries, the ICOtec GEN2 GC500 is going to be incredibly easy to put straight into your backpack and never even notice it's there. This is great for taking on long hikes without adding a huge system to your pack. It will leave your energy to the hunt, rather than getting to it. 
Affordable and feature-rich for the price
With such a low price you would imagine there were a lot of corners cut. ICOtec didn't hold back when adding feature after feature into the GC500. It is so feature-rich that you're shocked when you look at the price tag. It's amazingly affordable and the list of features you get with it just goes on and on.
Warranty
ICOtec's one-year limited warranty is set to cover the ICOtec GEN2 GC500 to give you a little bit of extra comfort when investing in this product.
ICOtec GEN2 GC500 Cons
Not loud enough
If you're trying to find something negative, the speaker is where you need to look. It's not the most powerful out of all the callers that are available today, but it does impress for the size and the cost of the caller. Some hunters prefer getting something that will be a lot louder, and can be disappointed with this level of sound.
It's not easy to program additional calls
Some users find difficulty in the programming of additional calls. You need to be a little tech-savvy to figure it out, but once you do, it's easy. There's a certain way to name the files and the files need to be in a certain format.
MFK sound files can't be used on it
One problem here is that if you've downloaded calls you're likely to find MFK files that you won't be able to play on the GC500. To get sounds that work, you'll need to find MP3 or WAV files, as those are the only two that will play on this caller.
Alternatives
For alternatives in the volume as well as the programming, we suggest that you take a look at the Foxpro Inferno or the ICOtec Sabre. These aren't too far off when we're talking about price, but manage to squeeze in a couple of features that the ICOtec GC500 has left behind. 
Final Verdict on ICOtec GEN2 GC500
For the price, it's hard to find something better. The ICOtec GC500 performs at the same level as callers that are almost double its price, which still astonishes us. This caller brings a large number of features to your hunt and helps make catching the predators a whole lot easier.