As predator population continues to soar across the country, the importance of population control continues to be obvious. We are seeing coyotes and wolves inside of human territory, threatening our families and our livestock. Because of this, the call to hunt bigger predators is on. The only problem is, these predators are tricky to catch.
Hunters have adopted fake calls for thousands of years in attempts to lure their prey. It hasn't been until recently that technology has caught up and made this worlds easier. Just like the ICOtec Sabre, the ICOtec Night Stalker brings professional grade sound quality and durability out into the field with you. The difference here is that the Night Stalker was made to enhance your hunt in the dark of night.
Overview of ICOtec Night Stalker
Any time we have looked at an ICOtec product, the only real conclusion we've come to is that this is a company that knows what they're doing. They are looking out for hunters to make hunting bigger predators safer and easier with an effected calling system. This caller has a 10 watt mega speaker that puts out high quality sound from atop two legs to raise the sound, and can easily be mounted on a tripod.
With 240 preloaded sounds and the room for up to 500, you can be sure to have every sound that you want loaded and ready to go on this device. These sounds can get incredibly distinctive and precise. You can choose between a female coyote or an angry or lonely male. Your options for simulating any situation are vast with the Night Stalker.
The durable 360° antenna allows for the ICOtec Night Stalker to be operated from 300 yards away, out of the line of sight. Now, trees and boulders aren't going to be additional obstacles to your hunting and successful operation of your game caller.
The five-year warranty just tells us how confident ICOtec is that you are going to love the ICOtec Night Stalker. You won't be looking for a new game caller for years on end if you make the move to get the Night Stalker.
Key Features
Remote Control
The remote controls that ICOtec puts out tend to be incredibly user friendly and come along with a great range. The remote control for the Night Stalker is no exception. The screen display has a night and day option, which adjusts the brightness of the screen immediately in order to read it better.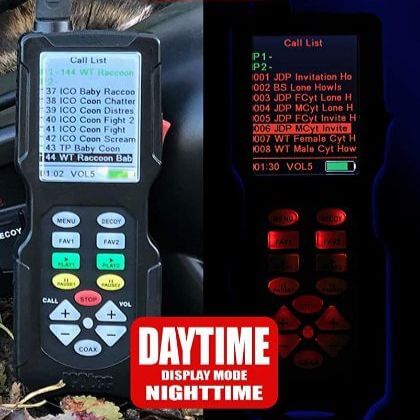 This remote is packed with features. For the dual sound function it has a separate pause and play button for each sound. You are able to customize and tailor the scenario to your very liking with that capability.
The screen on the remote control is huge. This makes it easy to read and even easier to navigate. You won't be pulling out your reading glasses or struggling to make out which sound you're about to play.
Speakers
These 10 watt speakers have the capacity to put out a huge amount of volume and be heard all around the forest that you are hunting in. It will bring in your prey from huge distances because of the power and quality of these speakers.
Another really cool feature of the ICOtec Night Stalker, as well as other ICOtec products, is its ability to play two sounds simultaneously. This lets you create scenarios that involve multiple animals and will be even more realistic to the predator you're attempting to snag.
With this feature, you can get attack sounds going from one predator as well as playing the screams from another animal. This will really do its part to trick your prey into coming and checking out the situation.
Sound library
MP3 and WAV files alike, there's a ton of storage space in the ICOtec Night Stalker's programming. No matter what you are hunting you can fit the sounds you need into this system and have it quickly on hand. With this purchase you get access to ICOtec's sound library and you will have free unlimited downloads to get even more sounds.
The sound library starts with 240 preloaded sounds, 50 of which come straight from Tony Tebbe, who has over 30 years of calling experience. Tony Tebbe is world-renowned for making the top custom predator calls and having 50 of those sounds readily available is a huge advantage.
The preloaded sounds should be more than enough to cover the basics so you can go out and hunt the day you get it. It comes along with everything ranging from a female coyote howl to a baby blackbird. It's astounding what you can get to come along with you without bringing 500 different whistles.
There's no need to figure out the programming until you get back from your first trial and know what you may need. This makes getting out quickly easy after you've already waited for the caller to arrive.
Favorites List
One of the top features of the Night Stalker that has stood out to us is the ability to pick and choose favorites for easier access to the sound you want, when you want it. With a lot of other callers you need to sift through the library folders just to find what you want.
Professional hunters know that opportunities that arise come quickly and leave just as fast. This means you don't have the time to sort through and try to find the right call for the right situation. You have quick access to your favorite sounds and you know exactly where to find them.
We love the user-friendly aspects of the Night Stalker. The FAV1 and FAV2 options truly make this an easy to use device that is exactly what you will want out in the field. You can get up to 20 sounds into your favorites and get yourself ready for the hunt you're about the head out on. It's simple to do and pays off ten fold.
Coax
The coax sound will be the one sound you choose to be able to play at the click of a single button. This can be something you know you will want to insert into any other scenarios. For example, when you are playing the sound of a pack attack, using a coax sound of other prey in distress will be more likely to help bring other animals closer.
Tripod Mountable
The Night Stalker is made to mount a tripod that will elevate it up off the ground and helps to amplify the sound. This is a great move, especially when sitting on the ground can mean being muffled by leaves or snow. With a tripod, it will be boosted up and project the sound out as effectively as possible.
Warranty
Just like most ICOtec products, they back the Night Stalker with a 5 year limited warranty. This is an incredible warranty that also demonstrates how much faith they have in what they're making. You will have five years to be sure that this is what you want without worrying that it will bust and you will be out of luck.
Disadvantages
While this is obviously one of the best game callers in the industry, it does have a few downsides. We want to make sure you are fully informed about the Night Stalker because these minute details can easily be overlooked.
Batteries
The batteries for the caller and the remote are AA batteries, and 14 of them at that. This is a huge number of batteries that will definitely add up in price as time goes on. ICOtec boasts long battery life, but that means getting rechargeable lithium batteries rather than just relying on typical AA.
Does not contain decoy
One of the bigger drawbacks of the ICOtec Night Stalker is that there is no decoy included in the original purchase. We see a decoy as being incredibly effective to help you lure in more prey and attract them to a specific location. Unfortunately, you will need to figure out a different decoy system.
Alternatives
If you are needing something that comes with a decoy and has just a few more features ready at hand, the ICOtec Caller Outlaw will be the perfect alternative. Staying in the ICOtec brand, you can still get everything you want, but just with a slightly different model. The Outlaw features an effective decoy that will increase the likelihood of you bringing in more prey.
Final Verdict on ICOtec Night Stalker
If you are going out and want something that is going to really add to your hunting experience, you won't be disappointed with the ICOtec Night Stalker. We see a lot of similarities between it and the Outlaw, but the ICOtec Night Stalker seems to be more adept for hunting coyotes at night.
We can't recommend one over the other because you are the one that knows what you need and what you want to accomplish with this caller. The ICOtec Night Stalker is a fantastic user-friendly caller that is going to last you a long, long time.