When you think of the best companions with hunting you think of the people and gear that will be there when you need it. In other words, you want to have a reliable and durable caller by your side to help you get the best results in bringing in the big game. The ICOtec Sabre programmable game caller gives you the reliability and professional grade sound quality that is hard to find in this market.
You don't get the big trophies anymore by using old school whistles and game callers. The world has moved on to big name technology that has a precise mimic of hundreds of different scenarios in the animal kingdom. When you can fine tune your hunt to such a deadly game, you are the one with the best stories of hunts out in the field, not to mention the tags to back them up. That all being said, we want to help you understand the ICOtec Sabre just a little bit better. It's packed full of features, just waiting to be opened up.
Overview of ICOtec Sabre
The ICOtec Sabre stands out amongst the rest of the competition in a few different ways. Long range remote activation and the high grade durability of ICOtec-Tuff means that you can rely on the Sabre to work even when you're a football field away. It stands up to the test of time and you know it will sound at the exact moment you want it to.
The battery options and life of the Sabre is unbeatable. The caller comes with a AA battery cartridge to give you the choice to run the caller off any AA batteries. You can also use the C4 rechargeable battery to get yourself a huge battery life that is hard to beat.
Overall, the ICOtec Sabre is an incredible game caller that is going to get the job done. It has a ton of features that bring in all of the game you could possibly imagine. With the capacity of holding 500 different sound files, you are going to struggle to find something that you're missing.
Key Features
ICOtec-Tuff
"Dead serious calls and decoys" is how ICOtec likes to brand their products. They have brought a highly durable product to the table that has started to be referred to as ICOtec-Tuff because of what it can stand up against. This is a huge key feature because when out in the field, the last thing you need is a broken caller that will be rendered useless.
ICOtec C4 Powerhouse
On top of the AA battery cartridge that ICOtec sends along with their products, the Sabre is also compatible with the ICOtec C4 Powerhouse Rechargeable Lithium battery. This is one of the things that makes the Sabre stand out. You can go out hunting for days and never have to worry about this dying on you. There's no internal battery that you are forced to use, instead you can take your pick and switch over quickly in the field to a reserve system.
Remote Control
We've found the remote control on the Sabre to be incredibly impressive. It has a range of 300 feet, even when you are completely out of the line of sight. Now you don't need to specifically line your blind up just to be in line with the caller and will be certain it's going to pick up the remote.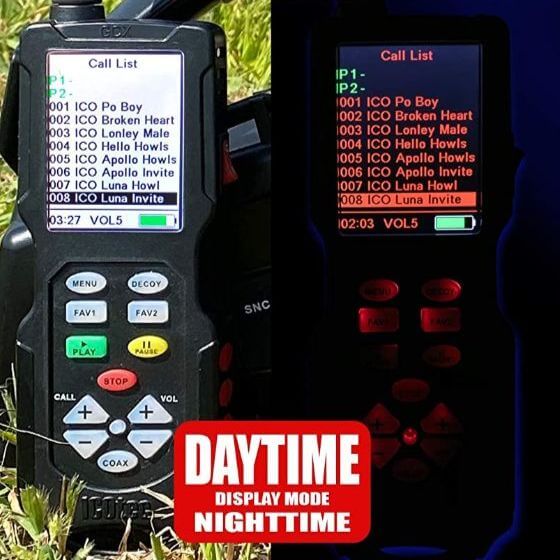 Even the night time has nothing against this remote. The night mode lets you be able to control the caller with accuracy, rather than just pressing random buttons in the dark. This is great for early morning hunts or those that fall deep into the night.
Speakers
Every person that has used this reports great sound quality, on top of the perfect volume level. When you're hunting clever creatures, you need the speakers that are going to stand up to their cunning and well-trained ears. You essentially must fool them into believing that this box is one of their own. With the speakers on the Sabre, this becomes incredibly easy and it sounds just like those animals out there that you're after.
Sound library
The sound library on this comes fully stocked with the possibility of even more. The 280 pre-programmed sounds should cover your bases, but in case it isn't enough you have room to get up to 500 different sound clips. You can build your own zoo and have it all there at your fingertips.
Another great feature of the Sabre is your ability to pre-program up to two sets of favorites with 20 different calls. It's easy to group your calls and be ready to use them when in the field without searching through the library.
Warranty & Customer Support
Since ICOtec knows that they have made an incredible product, they back it with a 5-year warranty to make sure you get the biggest bang for your buck. With customer support like this, you have to believe they're doing something right. Try this one out for a lengthy amount of time, and if you don't appreciate it then ISOtec is going to have your back.
Disadvantages of ICOtec Sabre
Only one sound can play at a time
One of the biggest pros for game callers is the ability to simulate scenarios with multiple sounds going at once. The ICOtec Sabre unfortunately only will play a single sound at a time, making the reproduction of an animal fight or other situation impossible.
Batteries
While this does allow you to use the C4 rechargeable lithium battery, if you are forced to use AAs, it will require a mass amount of them and drain them incredibly quickly. This caller wasn't made to be light on the battery usage, and if you have the chance, don't go with AAs, but hold them for a backup in the field.
No Decoy
While there is an option for a decoy available, it is on a much more expensive product and you need to spend a lot more to get the decoy. We think that a decoy should be included in these purchases, as they often are a pretty large drop of money. Decoys can really help out in the field, but this lacks that feature.
Alternatives
For an option that comes with a lot of the features that the Sabre lacks, check out the ICOtec Night Stalker. The Night Stalker will play multiple sounds at once, making it a great choice to simulate the most realistic noises of the wild, unlike the Sabre.
While the Sabre is a great product, the Night Stalker makes up for where the Sabre may miss the mark on a couple of key features. We recommend looking at both products and seeing what it is that you mainly want them to be used for.
Final Verdict on ICOtec Sabre
In the end, we couldn't recommend the ICOtec Sabre more. It has all of the features that you need in order to get out into the field and come home with some impressive trophies. We think that this is a great companion and should go on every single hunt with you, because it's time to upgrade your old system of whistles to stay on the same level as everyone else.